Special Olympics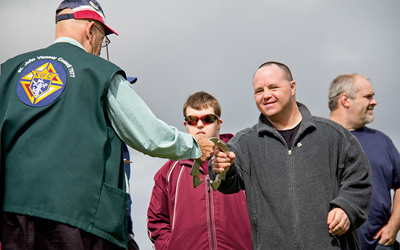 2020 POLAR PLUNGE
2021 SPECIAL OLYMPICS AND FLORIDA KNIGHTS OF COLUMBUS BOCCE COMPETITION
SPECIAL OLYMPICS USA GAMES - ORLANDO, FL JUNE 5-11, 2022
HELP AN ATHLETE BE THE BEST VERSION OF THEMSELVES
"For whatever you did for one of these, the least of my brothers, you did for me."
Since 1968, the Knights of Columbus has raised and donated more than $600 million to programs for people with intellectual and physical disabilities - Special Olympics ranks among the larger gifts the Order makes annually of time and money.
In 2005, the Knights of Columbus announced a partnership with Special Olympics; committing $1 million over four years to grow the program in North America in addition to pledging increased volunteer support for state and local games. The Order also pledged to work with Special Olympics North America to expand its program to underserved countries. The Knights of Columbus has subsequently extended that commitment through 2016. The Knights of Columbus commitment to Special Olympics and to hundreds of grassroots programs for people with intellectual and physical disabilities is an expression of our belief in the intrinsic worth of every human being.
The Knights of Columbus believe that the Special Olympics are nearly unparalleled in their ability to show the intrinsic worth and dignity of every single human being. These games don't just build strength and character in the athletes and participants; it only takes a few moments with the competitors to be inspired by the force of their determination, and the true sense of God's love.
Although the Special Olympics have grown in recent years, they still need our continued support. We encourage Florida Councils and parishes around the State to organize fundraisers, events, and donation drives that will continue to benefit this magnificent event. The Special Olympics are too wonderful to overlook, and the Knights of Columbus are committed to bringing the games to all corners of the globe.
Still, the bond between the Knights of Columbus and Special Olympics runs much deeper than dollars. Knights often take an active role in organizing and volunteering at Special Olympics games throughout North America.
The Knights of Columbus K of C Charities Board approved sponsorship of a "Flag Football Team" for the National Special Olympics Games. The cost is about $16.00 per player with a total cost of over $15,000. To help support this program, donate now and help these athletes attend the games.